THE ARTIST IN RED
ONCE IN A GREAT WHILE Artist Laurel Holloman leaves Luartfan SPEECHLESS!!!!!
picture copyright ~ miki turner
 ALL THE WORLD INSIDE EXHIBITION is currently underway in Berlin, Germany with 16 huge murals being presented for showing. Nine new paintings and seven from the artist's Free Falling Collection.
The exhibition officially opened to the public on April 28th and will run through June 23rd, 2013. Opening hours will be from 10am – 6pm.  Closed on Mondays with free entrance.
Check out the magnificent space by clicking on the link ~ http://www.palazzo-italia.com/
Just as I imagined prior to the opening of ALL THE WORLD INSIDE EXHIBITION and the unveiling of the artist's sixteen magnificent masterpieces. I knew  the Palazzo-Italia would undergo a beautiful, physical transformation once the sixteen paintings were hung upon the walls. There is no doubt the paintings will continue to echo their presence long after they are gone in June of this year.
Today however, while each painting quietly hangs upon the walls of the Palazzo-Italia separately and yet together, they allow us a glimpse of the inner soul that currently resides within the artist. 
Leaving you to discover the hidden meaning from their titles and maybe if you are fortunate and  look hard enough, long enough you will discover a  small resemblance of yourself…..
One thing is for certain….each painting leaves us inspired, breathless and speechless.
Just like their creator.
The one, the only….. Artist Laurel Holloman.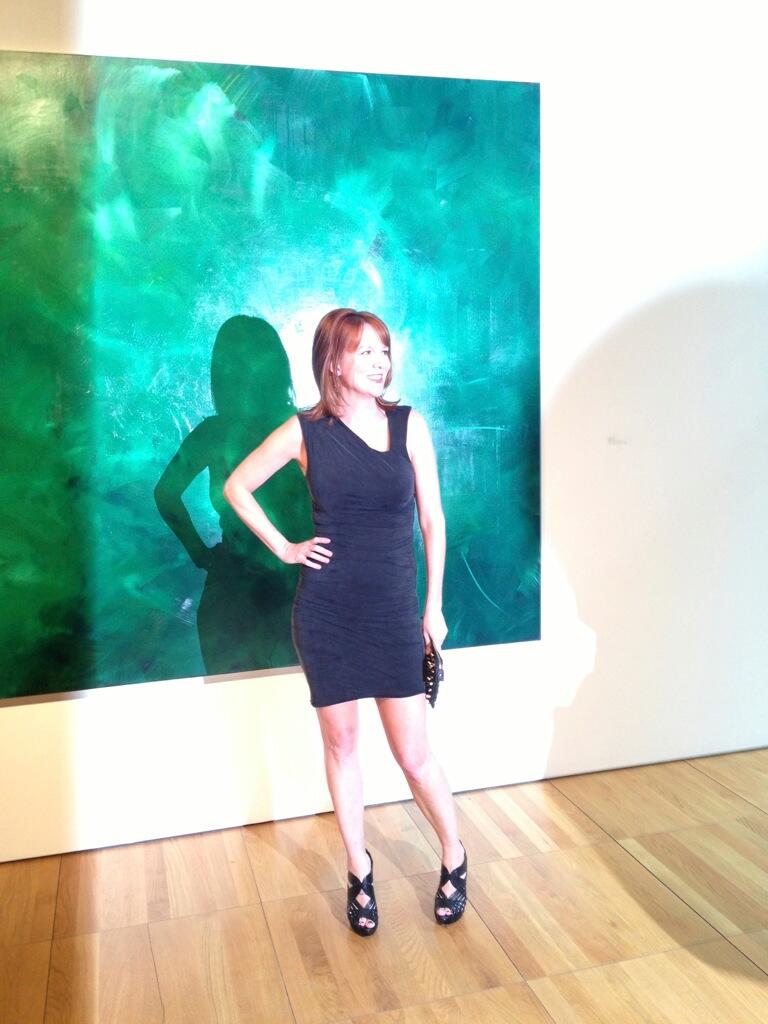 picture copyright ~ laurel holloman
Starting May 30th to September 30th 2013 in Venice, Italy, one of Holloman's paintings titled "SWELL" will be apart of a group show located in the Venice Biennale called  NELL' ACQUA CAPISCO (In The Water I Understand) curated by Claudio Libero Pisano. http://www.nonsolocinema.com/Nell-acqua-capisco_27850.html  http://www.myartguides.com/venice-art-biennale-2013/art-biennale/collateral-events/item/577-nellacqua-capisco
On March 12th Miki Turner an award-winning photojournalist (http://mikiphotogallery.com) and author of the newly released book "Journey To The Woman I've Come To Love" (http://www.mikiphotola.blogspot.com )/ openly congratulated Holloman for her recent honor of having one her paintings "SWELL" being accepted in the Venice Biennale. Turner (@mikiturner, twitter username) quoted in an open public tweet that reads as follows: "congrats to my sistahgurl @nalamommy (Holloman's twitter username) for getting into the Venice Biennale! it's a tremendous accomplishment for a deserving talent!"
Personally I couldn't agree more with Turner's comments and so this is why I chose to add it to this post. CONGRATULATIONS TO THE ARTIST!
 picture copyright ~ miki turner, laurel holloman
Holloman is leaving her own unique imprint within the prestigious art world with her massive size paintings she exhibits and sells to collectors world-wide. Breuer Collection, Isabelle Van Rolleghem Collection, Ethos Capital, Bernhard Kalchruber Collection, Waite Collection, Marla Henderson Design, Hunt Collection, Hoagland Collection, KK Pang Collection, Raweia Nouri Design.
With ALL THE WORLD INSIDE'S nine new masterpieces joining forces along side of FREE FALLING's seven masterpieces during the Berlin, Germany Exhibition; the artist is setting a new bar that will not easily be reached, if ever, by any other male or female abstract artist.
 Let Me Fall ~ picture copyright ~ laurel holloman
"I let myself be who I was…. loving myself. You should just be who you are and not worry about all the other noise." ~ Artist and Mom of two beautiful God Given daughters ~ Laurel Holloman
Laurel supports Emergency, so can you by making a $25.00 donation to help relieve suffering in war-torn areas by visiting Laurel's website at http://www.laurelholloman.net/ and click the PRINTS TAB, then the VENICE TAB, scroll down the page where you will find the "DONATION TO EMERGENCY" link.
The success of Free Falling in Venezia during the 2012 Exhibition purchased 22 cardiac valves for children in Salam Center.
In honor of the artist's BIRTHDAY on May 23rd and throughout the 2013 "ALL THE WORLD INSIDE EXHIBITION" let us help double, if not triple this number with a donation.
Will you help me?
Together, we can do it. We can help save a life!
http://www.the-hart-foundation.org/
http://www.emergency.it/flex/FixedPages/Common/assemblewidget.php/L/IT?utm_source=facebook-emergency&utm_medium=social&utm_campaign=open-heart
Dreams are like stars. You may not be able to touch them but if you follow them, they will lead you to your destiny.
Note: "THE ARTIST IN RED" will be the last post for the Luartfan.com blog. It will remain up until the end of June.
It has been an honor and a privilege to share with my readers, real people who leave me inspired and of real life issues I hold dear to my heart.
I thank each of you for giving your time and stopping by.
Respectfully, and with much love I sign out with this song dedicated to the Artist ~ http://youtu.be/X0aszDShxHk 
~To touch your work in the prints and canvas, to hold them in my hands, to take them on my tours… the need to have them with me for inspiration… just means I will be ….. A Lu Art Fan Forever. 
An Incredible Journey.
Luartfan